I've never been one given to making New Years resolutions.
However the idea came to me today to make a few resolutions based on pleasure.
Maybe the snow and cold have me thinking of things I regret not doing more of in the past couple of years, things that I truly enjoy that bring me a sense of beauty and wonder.
Whatever the case may be, here are a few of my New Year's resolutions for 2009.
my joy & wonder resolutions for 2009:
plant more flowers
grow more love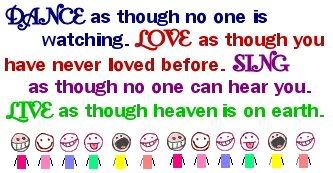 listen to music more often and dance and sing along!
spend more time on a blanket under the stars
smile more, laugh more
So, I bet you can think of a thing or two that brings you joy and wonder or are just plain fun. Things you'd like to do more of just for the sheer pleasure of it. Do tell!